Description


Product Applicable Scope
The ALIENTECH DUO II that 2.4G+5.8G Dual-band Signal Booster with a power amplifier, which applies to all DJI Drones' accessories, which include Mavic Pro, Mavic 1/2 pro/zoom/Mini 2/3/Air, Air 2, Air 2s /Pro, Classic /Platinum/Enterprise, Phantom 3/4 A/Advanced/Pro/V2.0/RTK, Inspire 1/2 Pro, Matrice 100/300/200/210/600 Pro, Smart controller, DJI RC, RC-N1, RC PRO, Cendence. Parrot Anafi, Autel EVO/II/PRO.

ALIENTECH DUO II signal booster is a fantastic, active directional antenna with two power amplifiers for a range extender, applicable to the 2.4Ghz-2.4835Ghz and 5.725Ghz-5.850Ghz frequency band. With a substantial transmission gain of 28-30dBi, and a significant receiving gain of 23-25dB, it can enhance wireless signal strength, lengthen the transmission distance and stabilize signal reception, and it supports wifi and OcuSync Protocol.

It has been proven with actual use tests that controllability will be remarkably improved after installation. That drone distance will be three times more than that of the original one. You can even easily break the flight limit of the drone's power, and obtain an especially sound manipulation in the interference area with excellent anti-interference performance.

ALIENTECH DUO II booster can not only effectively stretch the signal distance of a 2.4G drone, but facilitate storing and use given its small size. The function of Quick release saves your take-off preparation time to the greatest. Inside the booster, here are two 18650@2500 mAh rechargeable lithium batteries, which can be used continuously for over 300 minutes each time.
Product Function Overview
This product is developed specifically for 2.4 GHz and 5.8 GHz frequency bands. 2.4G is compliant with the IEEE 802.11B/G/N standard and 5.8 is a bidirectional power amplifier that complies with the IEEE 802.11A/N standard. The product matches frequency spread techniques such as direct sequence (DSSS) and orthogonal frequency division multiplexing (OFDM). Using TIME DIVISION DUPLEX (TDD) fast microwave detection technology and linear power amplifier technology greatly expands the wireless RF communication distance while keeping the transmission rate of 802.11B/G/N wireless devices unchanged.

PARAMETERS
Product model: DUO-2458SSB
Dual-Band, Work with 2.4G and 5.8G
Working Frequency Band: 2400-24835 GHz / 5.725-5.850GHz
Antenna Gain: 2.4G>13 dBi
±
1 / 5.8G>15dBi
±
1
Input power range: 10-20 dBm
EVM: 3%@28 dBm 802.11G 54 Mbps OFDM 64QAM BW 20 MHz
Electric current
:
435 mA@POUT 28 dBm 9V
Noise coefficient:
≤
2.5 dB
Transmission delay:
≤
1 μs
Battery voltage and capacity: 3.7V 2800 mAh
ATTENTION: Please pay attention before you place an order. You need to disassemble the original remote and remove the original antenna before you install the cable. In theory, although the installation process is non-destructive installation. However, you still have the risk of damaging the original remote control and losing the warranty for the remote control or drone. And users need to be careful that the outer insulation layer and shielding metal layer of the coaxial cable are intact. https://alienth.cn/blogs/refit

Before installation, please watch the video teaching carefully to ensure the correct installation of the cable. Be careful to use the tool to ensure that the cable is not broken, twisted, or damaged. We do not recommend this cable be installed repeatedly. Only one pair of cables is included in this package. It will include any tools for retrofitting.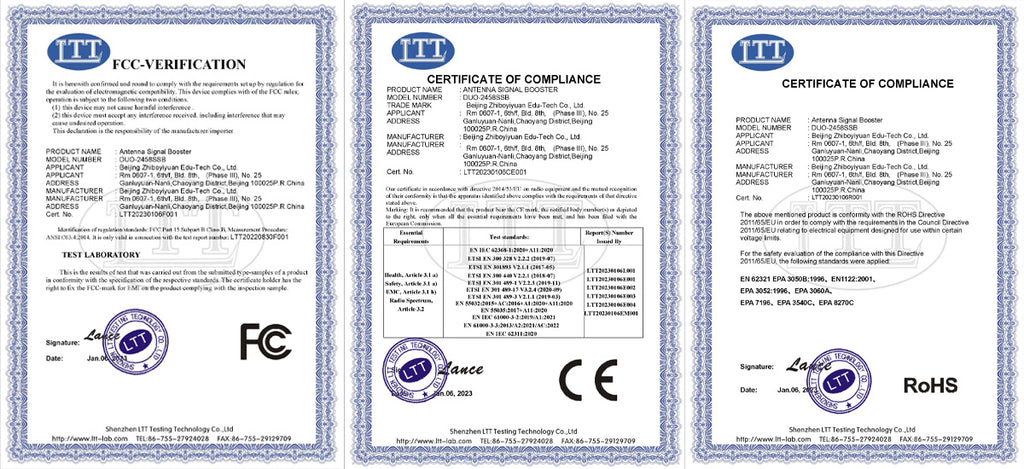 USER'S ACTUAL EXPERIENCE
Payment & Security
Your payment information is processed securely. We do not store credit card details nor have access to your credit card information.